Lightswitch for Chrome
Rooms tab
Choose the light or group of lights you want to control. Create your own groups from inside the app, remove them via the pencil icon on the rooms tab.
Dynamic scenes (paintbrush tab)
Choose dynamic scenes – including: 
New Years scene added: enjoy 2015 with a bang of colors as if fireworks are going off in our home.
Police scene: red and blue, flying in circles around your lights.
Christmas lights: relax and enjoy red green and white in smooth transitions.
Broadway: yellow lights run along whites.
Also, enjoy predefined portal scenes, stored on the bulbs directly, ignoring your chosen group.To stop a scene, choose a stable color in the color tab, for example.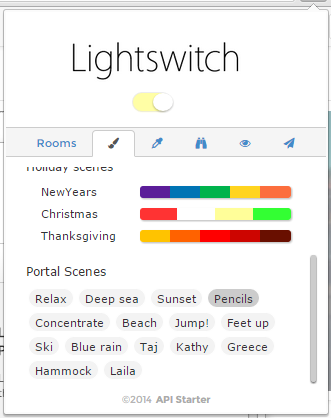 Color tab (eyedropper tab)
Choose from over millions of colors via the colors tab, mouse over the color swatches and click to enable on the selected group of lights.
Colour Lovers search
Search the amazing colourlovers.com database from within the app, and select the palettes for an animated atmosphere by clicking the palette name, or the exact color by clicking it.
Ambient lighting (eye tab)
Take the web with you as colors from the page jump into your living room. The dominant colors of the current page are extracted five times a second, and the lights smoothly switches to them, creating an ambient atmosphere.
Note this requires full permissions for the plugin, screenshots are taken five times a second and there may be a distinct lag between switches.
This is a powerful feature and requires a fast machine.
Works with netflix, YouTube, any video or web content, even full screen.
White colors are dismissed and dominant colors are more color-rich than the page.
Brightness is automatically determined, movie-nights become ambient.
This is the future of lighting.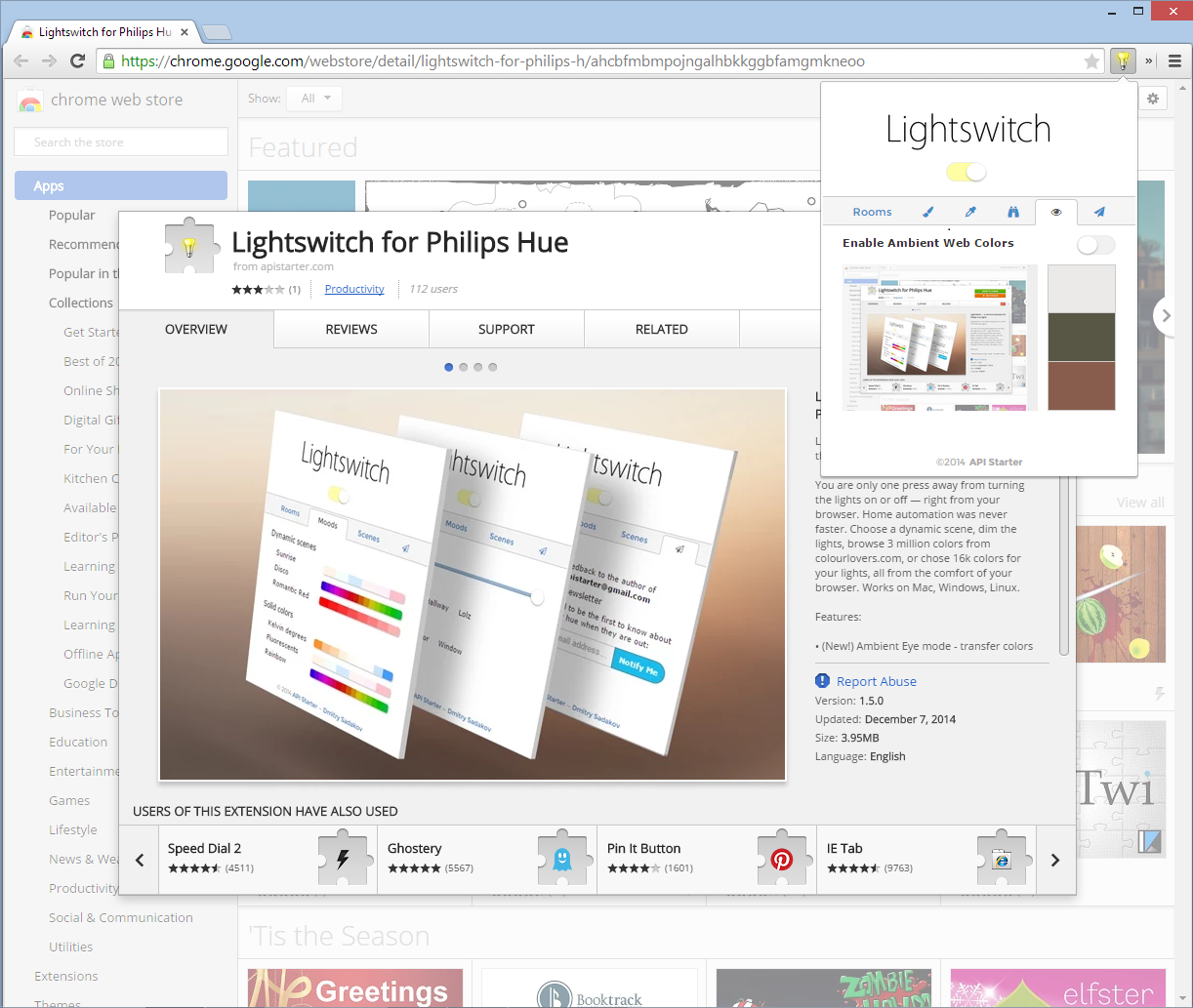 Feedback tab (airplane tab)
Share and vote for the best ideas.  Built in support is now frictionless and fast. Get private support and subscribe to our mailing list.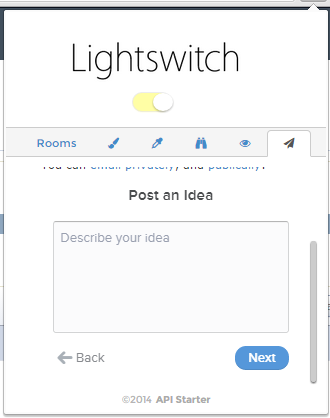 Enjoy, any questions can be directed to social media or emailed privately to apistarter@gmail.com.